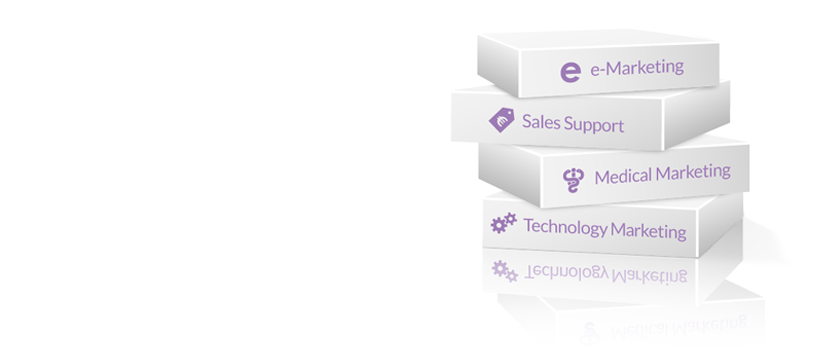 Our Market Solutions
We have specifically created market solutions for our core industries requirements. They are an individual combination of our core service areas Media & Design and Content & Consulting and build on our industry insights and experience.

e-Marketing
We are your competent partner for your comprehensive eMarketing strategy.
Our specialists are on the top of all new technology trends. We make you reach your target groups via all available electronic channels – eDetailing is not only a buzz-word for us. We focus on usability as well as visual attractiveness of targeted content as a key to success.
Examples
Search Engine Marketing (SEM)
Search Engine Optimization (SEO) + Reporting
Social media strategy and viral marketing

Sales Support
Berlin Specialists provide solutions to increase sales efficiency.
We develop the right combination of printed, web and mobile media communication vehicles to accelerate and sustain your business success. Our services include tools for sales optimisation and measurement as well as customer and stakeholder relationsship management solutions.
Examples
Sales channel strategy development
Strategic sales alliances and partnerships
Sales supporting material of all sorts

Medical Marketing
Our Medical Marketing Solution is a healthcare industry specific combination of our services.
We focus on profound scientific content and reflect the unique legal framework of the industry in our services. Healthcare policy makers are increasingly influencing what doctors can prescribe and "pay-for-performance" (outcome measured) is on the rise in mature and emerging markets. In (branded) generics the patient forms the center of the purchsing decision.
To reflect these trends we offer integrated market and marketing research in combination with health economic advise. Our international team of specialists, including experienced marketeers, designers, scientific writers and our network of key opinion leaders is ready to help you.
Examples
Full-blown marketing campaign development
Medical education events (CMEs)
New product launch support
NBD project evaluation support
Claim and message development and scientific communication strategy

Technology Marketing
Berlin Specialists provide Marketing Solutions especially designed for new technologies and technical products and services.
Complex technical products that requiring explanation and education have a very special demand on marketing support. Our team understands technological details and manages the transformation to a customer focussed communication.
Examples
Branding strategies for complex technical products
Technical content and brochures
Sales supporting materials